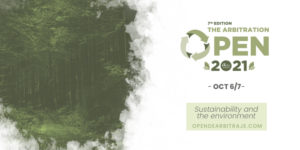 Available participation only online at this (link).
The seventh edition of theOpen de Arbitraje will take place on 6th and 7th of October in Madrid, the congress is organised in presence and via streaming. This year some of the topics confirmed for the event are: Arbitration and Construction; Greener Arbitration: international green initiative; The EU's new green taxonomy: towards a new surge of disputes in the O&G sector; Madrid safe seat of arbitration: The recent TC rulings; Arbitration and Human Rights; Evolution and adaptation of arbitration in the face of new global paradigms; Arbitration and hotel management.
Programme ( link)
Professor Attila Tanzi, will be the moderator, on the 7th of October, of the session dedicated to the "International investment protection of global banking and finance". Professor Tanzi is also member of the Advisory board of FIDRA Academy.
FIDRA Academy and FIMC can offer free access to the online version of the congress (streaming) thanks to the longstanding collaboration between the Chamber of Commerce od Florence and CIAR – Centre Iberamericano de ArbitrajeIf interested to participate please register at this link selecting "virtual – invitado" and discount code FIDRACADEMY.
Language: English or Spanish
For further information: [email protected]
Giovedì 22 aprile 2021, dalle ore 14.30 alle ore 17.30, PromoFirenze, Azienda Speciale della Camera di Commercio di Firenze e membro di Enterprise Europe Network, in collaborazione con l'Ordine dei commercialisti e contabili di Firenze ed il Consolato generale britannico Milano, organizza un seminario di approfondimento sulla Brexit, focalizzato sulla fiscalità e contrattualistica internazionale.